3M Golf For Kids Sake 2018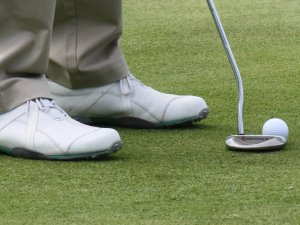 May 28th, 2018
3M Golf for the Kids a BIG Success!
Mapleview Golf Course, Perth, ON:  Supporters of Big Brothers Big Sisters of Lanark County were on hand to enjoy a fun day of golf at Mapleview in Perth on Saturday. It was another sold out event, with 144 golfers taking part, and enjoying the beautiful course while supporting a great local children's charity.
3M Canada in Perth was this year's title sponsor, and sent two teams to participate, as well as donated items for the very popular take home bags that each golfer gets.
The participants were well fed during the day. Tim Hortons donated the coffee and muffins, Garden Market Smiths Falls provided fresh fruit for a mid-morning snack and dessert to accompany the homemade cookies provided by Wendy Andison. Shoppers Drug Mart in Smiths Falls provided pop and Old Dutch provided chips. Blair & Sons donated water and ice.
There were many games that added to the day's fun, including a putting contest that provided many golfers with Tim Hortons' Gift Cards donated by Leo Adams Investments and a Cruise donated by Mike Fair Chevrolet Buick GMC Cadillac in Smiths Falls. Thank you to Jason Schooley at Arthur J. Gallagher Canada Limited for providing a Hole in One, and for Mapleview Golf Course for offering a second hole in one prize. Details Reality Inc. Linda Hewson, provided more fun for our golfers as our Prize Cart Sponsor. Enbridge donated a BBQ for the famous Pay What you Pull game, and many prizes for our golfers.
Big Brothers Big Sisters were happy to have many other great sponsors as well. Bean Chevrolet Buick GMC was the Cart Sponsor for this Year's GFK's tournament Metroland Media was once again the Media Sponsor, helping to spread the news about the 3M Golf for Kids Sake Tournament. Having Smiths Falls Canadian Tire as a Golf Ball Sponsor was an extra treat for our golfers this year. Likewise, we were happy to have Smiths Falls Kia our Driving Range Sponsor again this year.
Autumn's Fine Flowers once again provided each table with beautiful centerpieces. Prodecal was the Sign Sponsor this year, helping to ensure more money was raised for mentoring programs in Lanark County.
"Mentoring programs cost money", quotes Jennifer Miller, Executive Director of Big Brothers Big Sisters. "Having trained social service workers on staff to ensure volunteers are carefully screened is really important. Events like this one help us cover those costs." 654 children received service through the agency in 2017.
Each volunteer that offers to work with a child through our agency is carefully screened and evaluated for the safety of the children by a trained social worker. Thorough background checks are conducted, along with interviewing and training. Children are also given safety training, and go through an interview process, along with their families, to ensure that each match is set up to be successful. Matches are then monitored closely to ensure its success, and the safety and well being of the child. National Standards are followed throughout the process.
The agency does not receive sustainable government funding, so relies on events like this golf tournament to fund its programs.
More than 15 volunteers worked tirelessly to put on the event, which raised over $18,000 for the local charity.
For more information about mentoring programs offered by Big Brothers Big Sisters of Lanark County, please contact their local office at 613-283-0570.
Big Brothers Big Sisters of Lanark County
18 William St. E., Smiths Falls, ON K7A 1C2
jennifer.miller@bigbrothersbigsisters.ca
www.bigbrothersbigsisterslanark.ca