Sign your BFKS team up today!
After you review the information below, click here to go to our campaign, and choose the Fundraise button to add your team!
Add a team or support campaign
41st Annual Tim Horton's Bowl For Kids' Sake Virtual Event
BOWL FOR KIDS SAKE ….. VIRTUAL!
2020 was a year like no other. For the first time in 41 years, Bowl for Kids Sake is going VIRTUAL! To follow public health guidelines, we've adapted our signature event that was scheduled for February 27th, to bring the fun to you!
From March 1st to 20th we're asking you to decide WHEN & HOW you Bowl to support kids right here in our community.   You can register your team now and get started by sharing your team spirit!  We all know BFKS is not about the bowling-it's about the kids. 
This year's event looks different, but the need in our community hasn't changed. Now more than ever, our impact is relevant and our mission is urgent. For the Littles and families in our programs, the trusting, personal relationships they have with their groups and Bigs continue to be vital. So at Big Brothers Big Sisters of Lanark County, we commit to providing critical resources, offering support, and encouraging the well-being of our entire BBBS family.
HOW WILL IT WORK?
1) REGISTER – Get a team together with your friends, family or colleagues or you can even bowl solo. Register by setting up a fundraising page or team in our online platform.   Click on Fundraise to register a team, or Donate to support the campaign.  This has built-in tools to ask for donations from friends and family via social media, email, or text. The average donation people give is $20, and every dollar can make a BIG IMPACT for our Littles.
2) GET CREATIVE – Bowl from your home, backyard, workplace or anywhere you choose! Use a plastic bowling set, have a game of 'Wii Bowling' or play our online bowl game (Bowl online here). Get creative and plan what household items you can use for your own bowling alley (pop cans, water bottles, dominos, etc.). You can even setup on Zoom with your team and bowl together!  You should have fun with it and create an original team name, maybe try dressing up in costumes for a chance to win the best coordinated team costume!
3) PROVE IT – when you bowl, take a picture or short video of yourself playing your bowling game. If you play our online game or use an electronic game, screenshot your score and send that to us for the chance to win a prize!
4) TAG US ON SOCIAL MEDIA – you'll find our agency (BBBS of Lanark County) on Facebook, Twitter and Instagram. We'd love for you to post your pictures and videos and tag us. If you're not on social media, you can email us and we will share it for you.
5) SUPPORT THE ONLINE AUCTION – we are hosting an online auction from March 1st at 12 pm the bidding will go live and the auction will close on March 20th at 7pm. You can view the auction ahead of time, but note items will be added closer to the opening date.  Go check out the great auction!
6) WIN PRIZES– everyone likes to win a prize, right? Well this year, there will be a ton of gift card draws throughout the event as well as prizes for the top fundraiser, top online score as of 9 pm on the 20th, best team coordinated costumes, and much more! Register and your name will also be added to the random draws.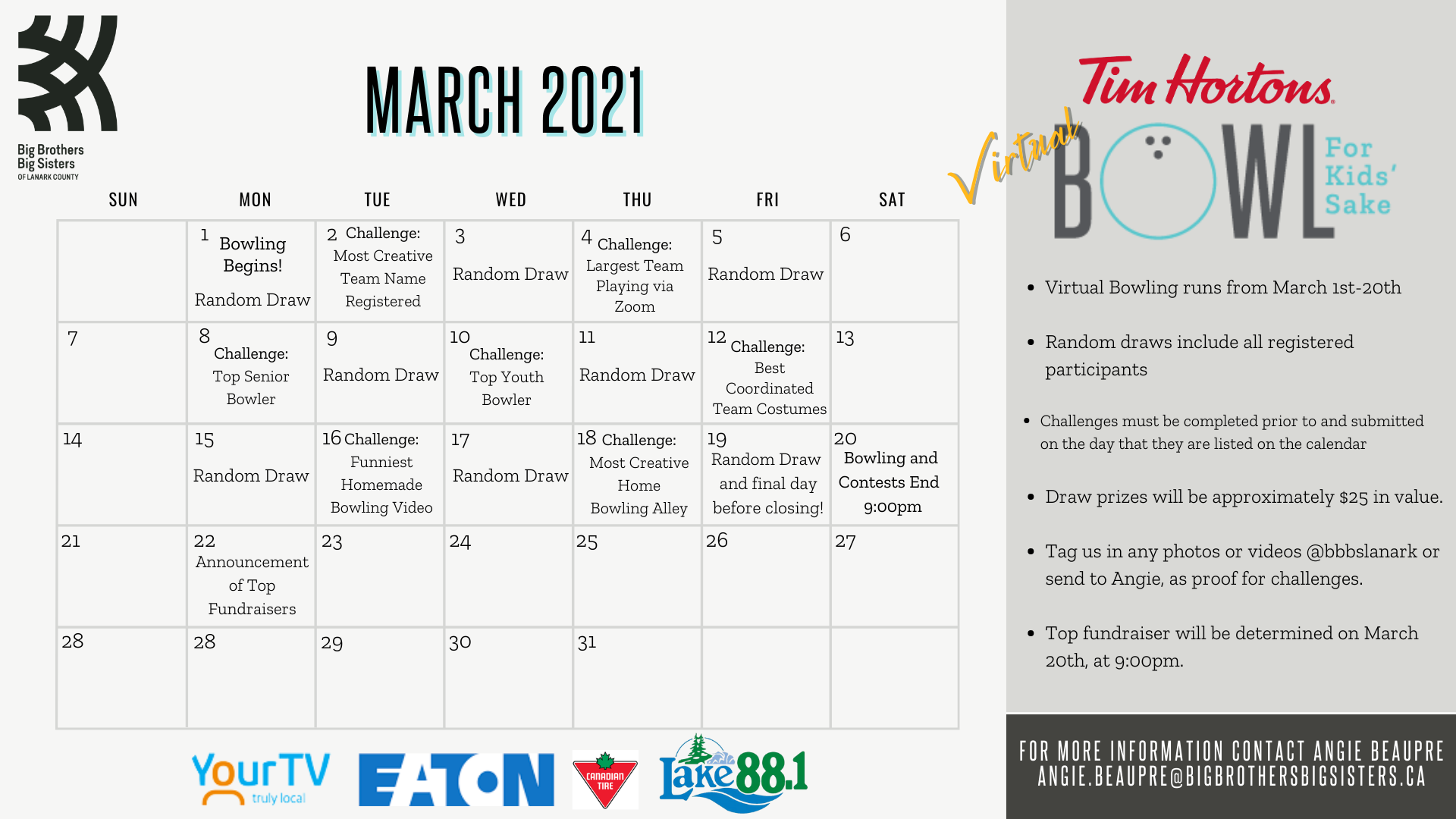 So start the ball rollin' and help STRIKE it BIG for awesome kids!
______________________________________________________________________________________
Bowl for Kids Sake is Big Brothers Big Sisters' premier fun-raising event where people like you get together with friends, family, and co-workers and have a fun time bowling in support of Big Brothers Big Sisters mentoring programs in Lanark County.
WHY BOWL FOR KIDS SAKE?
All children need support and encouragement from caring adults to help ignite their potential. We connect young people with carefully selected mentors that result in friendships. These relationships encourages outcomes like resilience, improved school achievement, confidence and strength to make positive life choices. Last year hundreds of young people were matched with a mentor right here in our community.
What does raising money during Bowl for Kids Sake accomplish?
Families reach out to Big Brothers Big Sisters in ever-growing numbers for support, and our ability to help them relies on our fundraising success. Creating a new match between a volunteer and child has an annual cost of $1,500. YOU and your team can become a MatchMaker. Aim to raise $1,500 and help invest in the creation of a new match relationship. Every dollar raised helps us help kids!
CAN'T PARTICIPATE? THERE ARE OTHER WAYS TO BE INVOLVED AND SHOW YOUR SUPPORT
Thank you to our Title Sponsor Tim Hortons and our Media Sponsor Lake 88 FM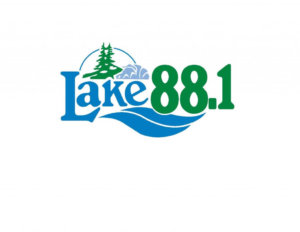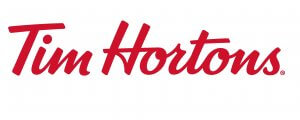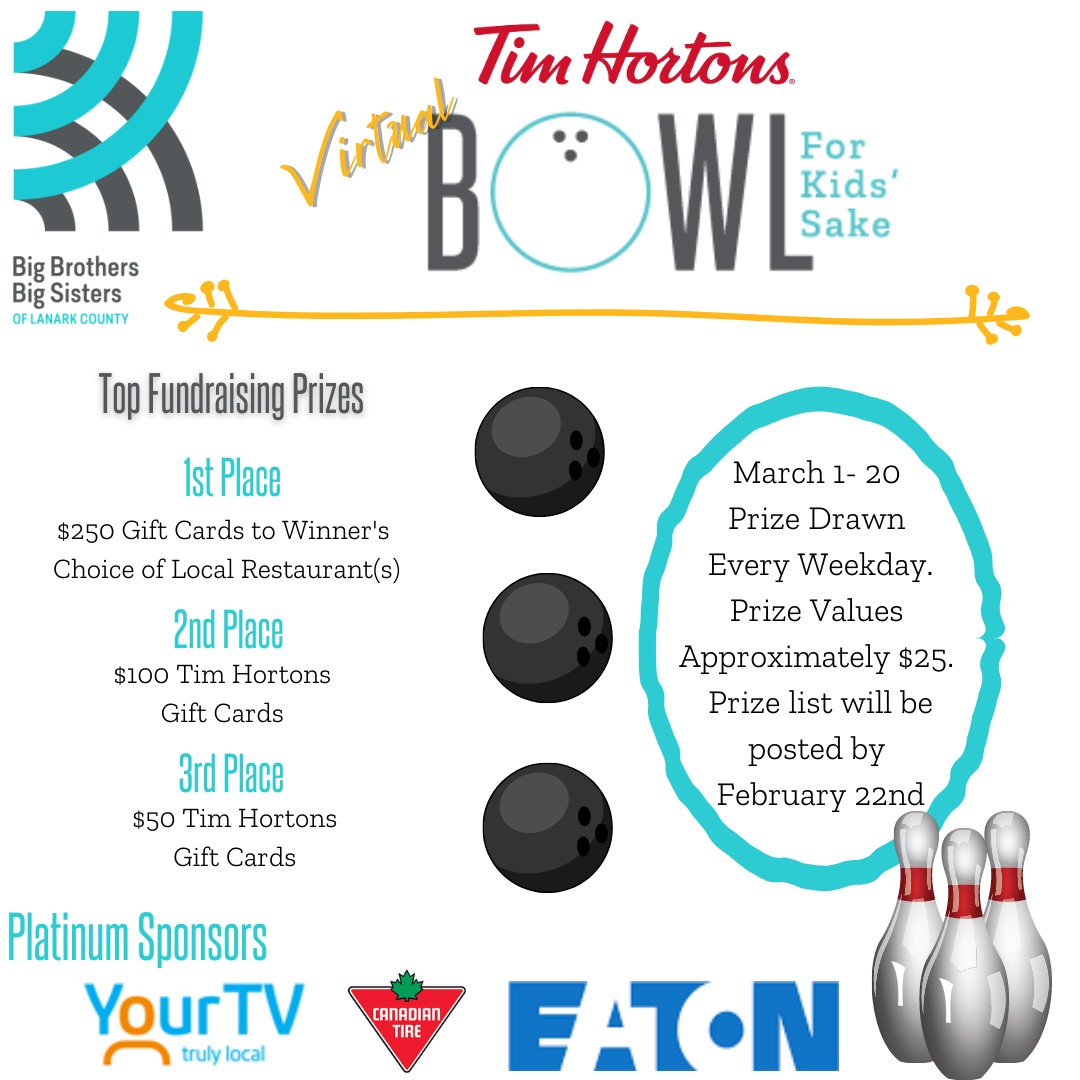 To watch the Home Town News interview about the annual BFKS with our Fund Development Manager click here
To see the latest article in Perth Courier
Try our online Bowling and take a screen shot of your score to share with us to Win a prize for top online score!
YOUR MISSION: FUN-RAISE TO IGNITE THE FULL POTENTIAL OF AMAZING KIDS!