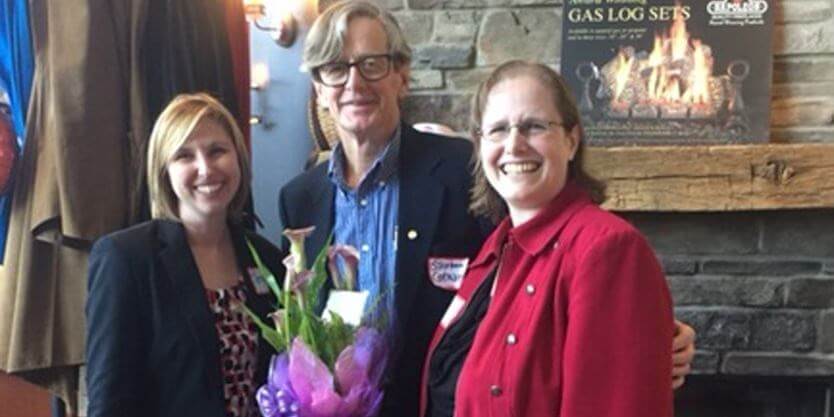 On Tuesday, April 18, the Fireplace Center & Patio Shop paused to celebrate 65 years in business. A local business that started with four employees, now employees over 50 and is a specialist in their field. This company is a family owned and operated business by the Cotnam family of Almonte.
The Fireplace Center & Patio shop is an integral part of the community where they live and work. Their employees see the needs of the local community and roll up their sleeves to meet those needs. For years, they have given to United Way, with one hundred per cent employee participation.
The celebration was a chance for the company to pause and reflect on the business and their community relationships. They have partnered with both Big Brothers Big Sisters of Lanark County and Big Brothers Big Sisters of Ottawa, and generously supported the United Way of Ottawa as well.
"Having the Cotnam family support has been a real gift to mentoring in Lanark County," Jennifer Miller, executive director of BBBS Lanark County, said. "Their belief that every child who needs a mentor should get a mentor has been instrumental to our growth over the years."
The Cotnams have been Big Brothers, helped with Spring Clean Up day, bowled and golfed and fundraised on behalf of this local charity. As an agency that does not receive sustained government funding, champions like the Cotnams and the Fireplace Center & Patio Shop are essential to the growth and development of this agency.
Stephen Cotnam speaks highly of his relationship with BBBS.
"All the staff, our customers, and our family believe in the great work that Big Brothers Big Sisters of Lanark County does and the benefits to the kids that it reaches … we are proud of our partnership with BBBS," he said.
Miller, along with Beth Sinclair, resource development manager of BBBS Lanark County, said they were proud to be invited to be a part of this monumental milestone for the Fireplace Center & Patio Shop.
Miller noted, "Mentoring has always mattered to Stephen, Richard, Andy and the team here. I am sure the staff has stories about the impact the Cotnam family has had on their lives. From a personal point of view, Stephen has been a mentor to me in my role with Big Brothers Big Sisters, to other agency staff and to our board of directors. As a company, the Fireplace Centre and Patio Shop sets an example to the community about what it looks like to give back. Their support of so many organizations, both financially and through their gift of time, models what corporations can do to support the communities in which their employees live and where they conduct business."
For more information about how you can help support local mentoring programs, please call 613-283-0570 or visit www.bigbrothersbigsisterslanark.ca.
More details about the Fireplace Centre can be found at http://fireplacecenter.com/
38th Annual Bowl for Kids Sake Support
On January 30th, The Fireplace Center and Patio Shop was proud to partner with Big Brothers Big Sisters of Lanark County for a night of bowling fun.
Big Brothers and Big Sisters of Lanark county assist underprivileged children in reaching their goals by guiding them and providing a positive role model in their lives.
This non-profit volunteer organization is near and dear to The Fireplace Center and we look forward to many years together.