Go Girls! Match
Lombardy Public School – Matched October 3rd, 2017
This Go Girls! match started in October at Lombardy Public School with a great group of grade 5 mentees. This group was mentored by Heidi, Hailey and Brittany, 3 College/University placement students who were excited to facilitate Go Girls! programming for the first time.  The girls enjoyed celebrating Halloween together making slime, all the while talking lots and getting to know each other!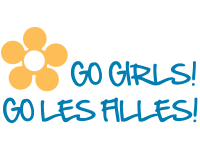 Go Girls! Match
Almonte District High School – Matched October 5th, 2017
This Go Girls! match started in October at Almonte District High School with a mixed group of grade 7 and grade 8 girls.  This group of mentees enjoyed the social aspect of Go Girls! as well as the games. On November 9th, 2017, the girls had a visit from Beth McKibbin and Scotch the therapy dog from Ottawa Therapy Dogs and got to learn something new!
Go Girls! is a fun, in school program and we are always looking for volunteers! Become a Mentor today!